Blog
June 28th 2021
Shindig Launches Virtual Lobby Functionality, Enabling 'Work the Room' Networking for Virtual and Hybrid Events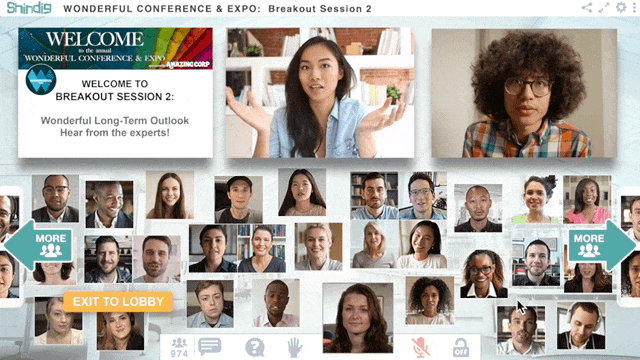 PRESS RELEASE: New York, June 28, 2021 - - Addressing the clamoring need for better virtual and hybrid event networking, Shindig today introduces a patented virtual lobby functionality; a virtual experience where event attendees can mingle, network and conduct private business on the platform.
The innovation is designed for both virtual events and hybrid events.
- For virtual events it allows a meeting place where all those attending individual sessions, panels, tracks or exhibit booths in a Shindig-enabled event, to navigate to a single shared experience and meet up, just as they might if the event were in person. One of the key additional differentiators of this feature is that all the private conversations can go on while the participants are also able to peruse and interact with the conference program directory, discussing with friends and colleagues what session, panel, track, or booth they might attend together next while jointly exploring the full conference guide..
- For hybrid events the function adds two critical new elements. First, it provides a venue for in-person guests to engage with online participants freely on their mobile phones, critically uniting both audiences together for purposes of private conversation. Second, it helps event hosts avoid "dead air" in their livestreams and provides opportunities for the online audience to engage during breaks required between the in-person sessions, which otherwise would cause the online audience to be lost and otherwise leave the event.
In the 2021 Event Tech Innovation Report, the EventMB publication cited 'the biggest challenge for planners in virtual events is how to keep attendees engaged'.
In response to this need, Steve Gottlieb, CEO & Founder of Shindig, Inc. said, "while many platforms claim that one-on-one appointments, speed dating or text interactions are the same as networking, those just don't compare to real life behavior people want. Working the room, running into an old friend, being casually introduced to a mutual contact, or opportunistically pulling someone aside who has a free moment, are the types of in-person networking encounters that Shindig now recreates online. With Shindig's Virtual Lobby we have brought all the spontaneity and serendipity of in-person networking to the virtual experience".
Virtual events also promise to play a significant role in hybrid events, as they can allow in-person attendees to take advantage of the opportunity to engage with the potentially larger audience attending online, and vice versa.
Shindig's Virtual Lobby is completely unique in allowing free-form interactions just like those at any in-person event. Every participant in the Virtual Lobby can see who is talking to whom and who is free for conversation. Conversations can merge and individuals can easily move from conversation to conversation to work the room. And just like an in-person event lobby, the Shindig lobby is perfect for sponsor messaging, video displays, dynamic CTA's and other activities that can be facilitated in a conference reception space.
Read More
Testimonials
Cole Robinson
JOHNSON COUNTY DEMOCRATS, GALA DIRECTOR
"Our gala this year went digital but we were still able to set a new fundraising record for net revenue. Through Shindig, our attendees were able to enjoy all of the mingling and socializing of an in-person event while also getting to hear from
our special guests Representatives
Adam Schiff and Sharice Davids."
Frederick K. Swaniker
FOUNDER, AFRICAN LEADERSHIP GROUP
"We recently used the Shindig platform and it was truly amazing, especially being able to see how the team interacted with each other and how it brought our community to life. 
I believe that this could be revolutionary for education. Its ability to create a real classroom experience online really paves the way for increased engagement among participants and even welcomes creative expression."
Kevin Smith
DIRECTOR, COMEDIAN
"More of this, less of everything else. F*ck typing! Can you imagine the first two of these we did typing...like cavepeople...nah, now we talk to each other like we're the f*ckin' Jetsons. This is tremendous."
Rohan Jackson
MANAGING DIRECTOR, NOMAD IT
"Shindig helped us deliver the largest ever online anthropology conference, EASA2020, giving 1900 delegates multiple ways to present, and engage with one another with a real sense of virtual shared space. The final night party – a right shindig! – surpassed our expectations as delegates showed off their dancing skills to colleagues listening to the same DJ set."
Michelle Issing
DESIGNING EVENTS
"We had 72 hours to confirm 60+ sessions, train presenters, learn the software, revamp sponsorship packages, develop and implement massive communications plans, design the system, build an online program, and so, so much more.  The decision was made on Wednesday.  The transformation happened Thursday through Saturday.  And the virtual conference launched on Sunday.  
Thank you Shindig for providing the unique software that actually made me feel like I was with these conference attendees for 4 days, engaging with them in ways that truly mimicked an in-person experience."
Phil Hill
EDTECH EXPERT AND CO-PUBLISHER OF E-LITERATE BLOG
"I have to admit this was one of the best virtual discussions I've had, and more than half of the session was driven by audience questions."
Sheryl Sandberg
COO FACEBOOK AND CO-FOUNDER LEANIN.ORG
"We did a video chat using Shindig with the student leaders. It was incredible to see all of their faces and interact directly with those asking questions. The technology worked seamlessly. Congratulations on this great technology."
Norman Lear
TELEVISION WRITER AND PRODUCER
"This technology astounds me!"
Jim Cramer
HOST OF CNBC'S 'MAD MONEY'
"You know I love this format. It was very cool."
Peter Rosenberg
HOT97 DJ & CO-HOST OF 'CHEAP HEAT' PODCAST
"Thanks to Shindig for allowing me to chat directly with my fans and take their questions. This is the future of fan engagement."
Margaret Bearn
REUNION CHAIR, SWARTHMORE CLASS OF 1945
"Shindig far exceeded Skype's capacity and should be a great enabler in the future for gatherings with such far-flung participants."
Nick Blunden
SVP OF DIGITAL, THE ECONOMIST
"An exciting opportunity for The Economist to bring SXSW to readers around the globe using the latest video chat technology."
Jeremy Gutsche
CEO, TRENDHUNTER.COM
"Shindig created a pretty awesome live-streaming experience, effectively DJing an interview between me and the fans. I loved it!"
Nathan Gebhard
CO-FOUNDER, ROAD TRIP NATION
"The opportunity to share Roadtrip Nation with so many people in one (digital) space was terrific. The experience felt expansive and personal at the same time."
Lauren Fritsch
MANAGING PARTNER, TCC CONSULTING GROUP
"I love the Shindig interface! It makes web conferencing events visual, tangible and feel more IRL."
Tom Woods
FOUNDER, LIBERTY CLASSROOM
"Shindig has facilitated some excellent Q&A sessions between my faculty and members of our educational website. It boasts all kinds of exciting and useful features -- and the staff is very helpful, too."
David DeSchryver, Esq.
CO-DIRECTOR, WHITEBOARD ADVISORS
"It is good to present. It is better to engage ideas and to spark conversations that make others jump into the fray. That is what Shindig can do and it's a huge differentiator."
Denise Comer
PROFESSOR, DUKE UNIVERSITY
"It was fun to see people regrouping and mixing up. I liked that I could join small groups and bring people up in front of the class. It was really nice to be able to connect with the students in this way!"
Terry Matlen
AUTHOR, PSYCHOTHERAPIST AND CONSULTANT
"I've never seen a webinar that is so calming and fun to do. Thank you Shindig!"
Margarita Elizabeth
YOUTUBE STAR
"Shindig is a very cool platform and I love how you can talk face to face with your viewers. It makes the experience more memorable. I had a great time hosting and I know my viewers had a great time watching."
Dr. Atira Charles
PROFESSOR, FLORIDA A&M UNIVERSITY
"The Shindig platform has transformed the way in which we digitally engage with our students. It allows the faculty an opportunity to diversify the curriculum and pedagogical approaches, while aligning with the millennial students eagerness to digitally engage."
Jada Gomez-Lacayo
PROGRAMMING OPERATIONS MANAGER, INTERACTIVE ONE
"What's the best way to describe Shindig? It's like Google Hangout's cooler older brother, with the better gadgets. The platform brings any event into a branded social media experience that can be attended anywhere."
Student
DUKE UNIVERSITY
"Today's Shindig event blew me away. MOOCs introduced me to Google Hangouts and I thought they were amazing. But taking part in today's event and actually interacting with students and Professor Comer was so motivational and inspiring."
Not Just Video Chat
Imagine online events that are just as interactive, productive, and memorable as real life. Shindig gives you the tools you need to stop imagining and start experiencing. Sign up for a free demo and see how it works for yourself.