Blog
March 8th 2018
HQ Surpasses 2 Million Live; Time to Rethink the Power of Live Online Events?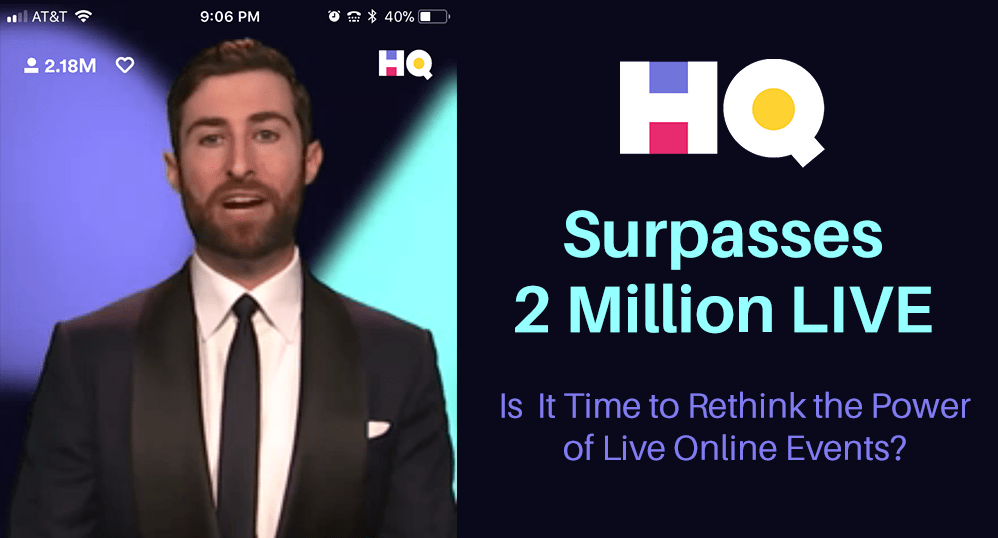 Oscar Night was a big night for
Frances McDormand,
Jordan Peele,
and
Guillermo del Toro

,
but perhaps one of the most noteworthy and least recognized winners of the night was HQ Trivia. At approximately 9:06 pm ET, just after
Dunkirk
won the golden trophy for Best Sound Editing, some 2.18 million people were drawn from whatever they were doing, or possibly watching, by the siren call of

Scott Rogowsky

aka Quiz Daddy, aka Edward Quizzerhands, aka Quizzie McGuire, hosting HQ Trivia, the mobile Trivia show.
Let's put HQ's Sunday night audience in perspective for a moment.
2.18 million is more than the audience that typically tunes into Trump's beloved morning program Fox and Friends (or CNN for that matter). It's also more than the average viewership of Jimmy K's other gig, Jimmy Kimmel Live.
From another perspective, 2.18 million live is over a hundred Madison Square Garden sellouts at once.
Indeed, the audience HQ got is more than the entire digital paid subscription of each of the nation's major print outlets (WSJ, Washington Post, LA Times, USA Today) with the exception of the New York Times (now reportedly up to 2.6 million paid subscribers).
So, in light of HQ's momentous success in aggregating live audience, is it finally time to retire the myth that audiences don't respond to live online events?
For the last decade, media companies have persuaded themselves that their online audiences are simply not interested in engaging live. The perceived failure of media's experiments with Google Hangouts circa 2013 and 2014, the flash in the pan of Meerkat and then Periscope, and the more recent disappointments around Facebook Live have all been blamed on the audience's purported lack of interest in live events.
The success of HQ suggests that judgment may be premature. Perhaps it is the nature of the media's live offerings and specifically their lack of audience engagement that have doomed past attempts at live online events.
HQ's success demonstrates, more than anything, that audience participation can trump more static TV studio type production for the internet. That spontaneous off the cuff interactions with a live audience is an irresistible force, sometimes more powerful in its appeal than the $$$ sometimes thrown at "production value"
While playing HQ, one is very much aware that it is decidedly not a TV show. Passive viewers in former
TVLand
have now been replaced by active participants out there in
iPhone/Androidland
and it is the interactions of these participants who are now the focus, such as their collective successes or failures on full view as well as the conversations among friends as they play on phones side by side with one another.)
Sure, the possibility of winning the $20 or so dollars a small elite group gets deposited nightly in their online wallet is enticing; but it is no accident that majority of the show is Scott's banter, his mangling the names of participants as he attempts to call out an impossible number of them; his commenting on random texts, sharing birthday wishes, and poking fun of groups of participants to the delight of others. It is our involvement with Scott, our desire to be personally acknowledged and/or perchance celebrated on the closing review of winners that keeps us there until the end and coming back for more.
We certainly could not have predicted HQ's success. Who knows whether two years ago the founders themselves imagined their ability to drag 2 million away from Hollywood's greatest night to play trivia. But they have clearly created a new paradigm that demands recognition.
It should be abundantly clear to all in media that live online events
can compete at scale with pre-recorded content of all varieties and that a secret ingredient to making this possible is audience participation.
In celebrating HQ's hard-earned achievement, we are excited to enable other creatives to similarly pioneer new live online experiences. The Shindig large scale video chat platform offers media entrepreneurs the opportunity to engage audiences in wholly new ways, empowering the transformation of static audience/spectators into active personalities who can directly engage with hosts as well as their fellow audience members.
If you're ready to join the live phenomenon, jump into
the post-text era
, and take advantage of the immense participation that large-scale online events can generate, check out
Shindig
's large scale video chat technology.
Read More
Testimonials
Cole Robinson
JOHNSON COUNTY DEMOCRATS, GALA DIRECTOR
"Our gala this year went digital but we were still able to set a new fundraising record for net revenue. Through Shindig, our attendees were able to enjoy all of the mingling and socializing of an in-person event while also getting to hear from
our special guests Representatives
Adam Schiff and Sharice Davids."
Frederick K. Swaniker
FOUNDER, AFRICAN LEADERSHIP GROUP
"We recently used the Shindig platform and it was truly amazing, especially being able to see how the team interacted with each other and how it brought our community to life. 
I believe that this could be revolutionary for education. Its ability to create a real classroom experience online really paves the way for increased engagement among participants and even welcomes creative expression."
Kevin Smith
DIRECTOR, COMEDIAN
"More of this, less of everything else. F*ck typing! Can you imagine the first two of these we did typing...like cavepeople...nah, now we talk to each other like we're the f*ckin' Jetsons. This is tremendous."
Rohan Jackson
MANAGING DIRECTOR, NOMAD IT
"Shindig helped us deliver the largest ever online anthropology conference, EASA2020, giving 1900 delegates multiple ways to present, and engage with one another with a real sense of virtual shared space. The final night party – a right shindig! – surpassed our expectations as delegates showed off their dancing skills to colleagues listening to the same DJ set."
Michelle Issing
DESIGNING EVENTS
"We had 72 hours to confirm 60+ sessions, train presenters, learn the software, revamp sponsorship packages, develop and implement massive communications plans, design the system, build an online program, and so, so much more.  The decision was made on Wednesday.  The transformation happened Thursday through Saturday.  And the virtual conference launched on Sunday.  
Thank you Shindig for providing the unique software that actually made me feel like I was with these conference attendees for 4 days, engaging with them in ways that truly mimicked an in-person experience."
Phil Hill
EDTECH EXPERT AND CO-PUBLISHER OF E-LITERATE BLOG
"I have to admit this was one of the best virtual discussions I've had, and more than half of the session was driven by audience questions."
Sheryl Sandberg
COO FACEBOOK AND CO-FOUNDER LEANIN.ORG
"We did a video chat using Shindig with the student leaders. It was incredible to see all of their faces and interact directly with those asking questions. The technology worked seamlessly. Congratulations on this great technology."
Norman Lear
TELEVISION WRITER AND PRODUCER
"This technology astounds me!"
Jim Cramer
HOST OF CNBC'S 'MAD MONEY'
"You know I love this format. It was very cool."
Peter Rosenberg
HOT97 DJ & CO-HOST OF 'CHEAP HEAT' PODCAST
"Thanks to Shindig for allowing me to chat directly with my fans and take their questions. This is the future of fan engagement."
Margaret Bearn
REUNION CHAIR, SWARTHMORE CLASS OF 1945
"Shindig far exceeded Skype's capacity and should be a great enabler in the future for gatherings with such far-flung participants."
Nick Blunden
SVP OF DIGITAL, THE ECONOMIST
"An exciting opportunity for The Economist to bring SXSW to readers around the globe using the latest video chat technology."
Jeremy Gutsche
CEO, TRENDHUNTER.COM
"Shindig created a pretty awesome live-streaming experience, effectively DJing an interview between me and the fans. I loved it!"
Nathan Gebhard
CO-FOUNDER, ROAD TRIP NATION
"The opportunity to share Roadtrip Nation with so many people in one (digital) space was terrific. The experience felt expansive and personal at the same time."
Lauren Fritsch
MANAGING PARTNER, TCC CONSULTING GROUP
"I love the Shindig interface! It makes web conferencing events visual, tangible and feel more IRL."
Tom Woods
FOUNDER, LIBERTY CLASSROOM
"Shindig has facilitated some excellent Q&A sessions between my faculty and members of our educational website. It boasts all kinds of exciting and useful features -- and the staff is very helpful, too."
David DeSchryver, Esq.
CO-DIRECTOR, WHITEBOARD ADVISORS
"It is good to present. It is better to engage ideas and to spark conversations that make others jump into the fray. That is what Shindig can do and it's a huge differentiator."
Denise Comer
PROFESSOR, DUKE UNIVERSITY
"It was fun to see people regrouping and mixing up. I liked that I could join small groups and bring people up in front of the class. It was really nice to be able to connect with the students in this way!"
Terry Matlen
AUTHOR, PSYCHOTHERAPIST AND CONSULTANT
"I've never seen a webinar that is so calming and fun to do. Thank you Shindig!"
Margarita Elizabeth
YOUTUBE STAR
"Shindig is a very cool platform and I love how you can talk face to face with your viewers. It makes the experience more memorable. I had a great time hosting and I know my viewers had a great time watching."
Dr. Atira Charles
PROFESSOR, FLORIDA A&M UNIVERSITY
"The Shindig platform has transformed the way in which we digitally engage with our students. It allows the faculty an opportunity to diversify the curriculum and pedagogical approaches, while aligning with the millennial students eagerness to digitally engage."
Jada Gomez-Lacayo
PROGRAMMING OPERATIONS MANAGER, INTERACTIVE ONE
"What's the best way to describe Shindig? It's like Google Hangout's cooler older brother, with the better gadgets. The platform brings any event into a branded social media experience that can be attended anywhere."
Student
DUKE UNIVERSITY
"Today's Shindig event blew me away. MOOCs introduced me to Google Hangouts and I thought they were amazing. But taking part in today's event and actually interacting with students and Professor Comer was so motivational and inspiring."
Not Just Video Chat
Imagine online events that are just as interactive, productive, and memorable as real life. Shindig gives you the tools you need to stop imagining and start experiencing. Sign up for a free demo and see how it works for yourself.